Description
Artist: Dust Orchestra
Title:Live At Xi Bar
Media: audio
release status: available
Dust Orchestra is the new solo project of Mark Crumby, best known for being part of the legendary Industrial project KONSTRUKTIVISTS, together with Glenn Michael Wallis.
In 2011 Crumby started to work with tribal rhythms and sounds, combined with noise and experimental sounds. The result is Dust Orchestra, and it premiered on stage on June 23rd, 2011, opening for Konstruktivists, together with Red Chamber and Naum, two Austrian experimental projects.
Another live appearance is expected for January 2012, where Dust Orchestra will open for Cut Hands, the "afro noise" project by William Bennett.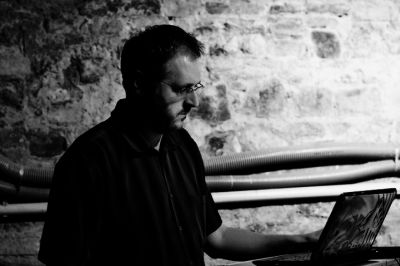 Crumby ran the
Jara Discs
label (1994-1997), the successor to
Impulse
, where he published the Impulse Magazine from 1991 – 1996.
He is also editor and publisher of the Whitehouse biography "Still Going Strong", with the infamous tribute tape
"White Stained Covers"
.
Besides Konstruktivists, Crumby had releases as Binary, Cathedra, Statik and Toxic Frequency.
Live At Xi Bar is the complete recording of the live performance, and not split into tracks, to preserve the live atmosphere.
More about Mark Crumby: Discogs