Description
Artist: 10-Speed Guillotine
Title:Psychout For Murder
Media: audio
release status: available
10-Speed Guillotine is the brainchild of Ohio based artists Jeff Chenault (Central) and Andy Izold. They have been recording together under various names since 1989. They were lumped together with other cyberpunk bands during the early 90's for their dark ambient sounds and high fueled noise driven rhythms.
10-Speed officially retired in 1994 but continued to record side projects as The Sex Musicians and Resonance.
Psychout for Murder was recorded during a reunion gig for the Ele_mental series on April 11th 1998. It has never been officially released outside a close circle of friends.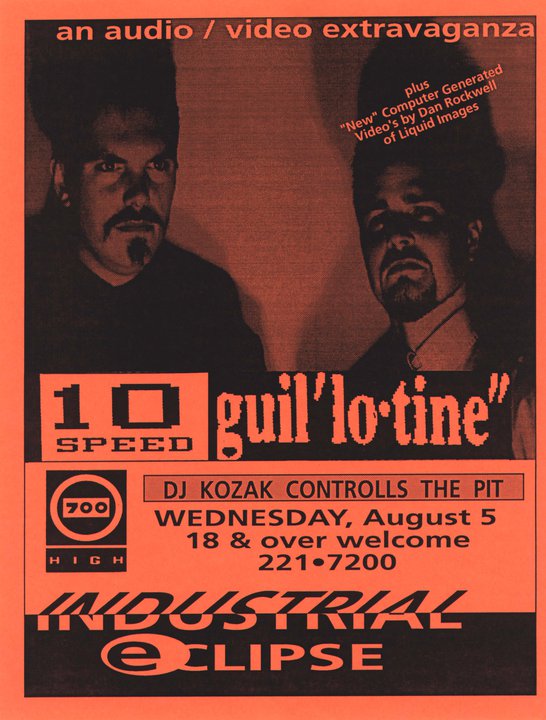 Originally from Port Huron, Michigan, Jeff started experimenting with tape loops, found sounds, and industrial noise back in 1983. During this time he moved to Columbus, Ohio to start the ITN, or International Terrorist Network label to share his music with other people. It was during these early days of the cassette culture that Jeff would release his own music as well as others. The label was later changed to Exoteque Music to avoid any homeland security issues. In addition to releasing his own tapes and various collaborations, he also has numerous tapes done for labels around the world. His first vinyl appearance was when a collaboration track between Jeff and Chris Phinney appeared on the Hands To/Mental Anguish split LP. The album was issued in a limited edition of 250 copies. He later appeared on two CD compilations "Music for Shopping" and "Adventures in Modern Recording." Both were compilations of electronic musicians from central Ohio, released on James Towning's Black Music label. Since meeting Andy Izold in 1989, they have released a plethora of experimental electronics that continue to this day. Jeff recently helped to release the Hunting Lodge box set "Shadows out of Time" that was released in 2010 on the Vinyl on Demand label in Germany. Jeff currently plays out live as Central Inhabitants to showcase his dark subsonic nightmares in sound.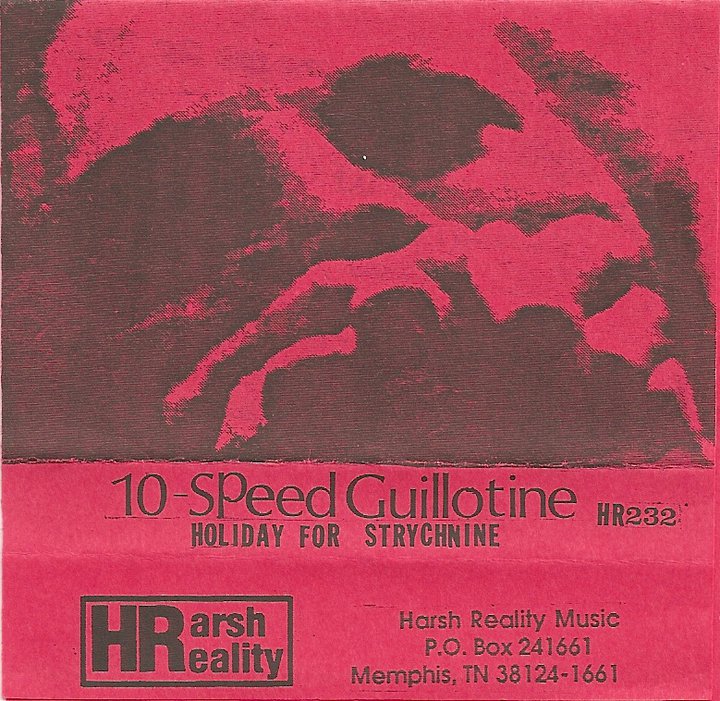 Andy Izold is the straight man; the safety coating on a bitter pill. Andy has worked in all styles of musical formats, on any number of musical instruments. The more conventionally trained of the two; he has played drums for the R.C. Mob (Warner Bros.), and produced as well as engineered the first Scrawl album on Rough Trade. He has played guitars, drums and synthesizers in numerous country, punk, experimental and rock and roll type bands. He also creates music for various video productions and owns his own recording studio called "The Pleasure Lab." Andy also appeared on the two aforementioned CD compilations "Music for Shopping" and "Adventures in Modern Recording." After graduating from Akron University with an electronics engineering degree he now resides in Cuyahoga Falls, Ohio. He still works in various bands and continues to collaborate with Jeff Chenault creating diseased ambient soundscapes.
He also continues to pursue the ultimate in sound reproduction with his current solo project Full Load of King.
Artist link: Exotequecatalog