Description
Artist: Various Artists
Title:Wroclaw Industrial Festival – 10th Anniversary Compilation
Media: audio
release status: unavailable
(DOWNLOAD HAS BEEN CLOSED)
The Wroclaw Industrial Festival celebrates its 10th anniversary with more than 20 bands performing in some of the most beautiful venues.
Almost all of them contributed to promote and celebrate this year's edition. Amongst them Thighpaulsandra, Clock DVA, Absolute Body Control, Minamata, Sieben, Thorofon, Geneviéve Pasquier and many many more.
In the last years, Wroclaw has proven to be one of the most innovative and interesting festivals in the Industrial scene, especially because the selection of artists goes into so many diverse directions.
Discover this year's line-up, and see you in Wroclaw – Nov. 10-13th 2011.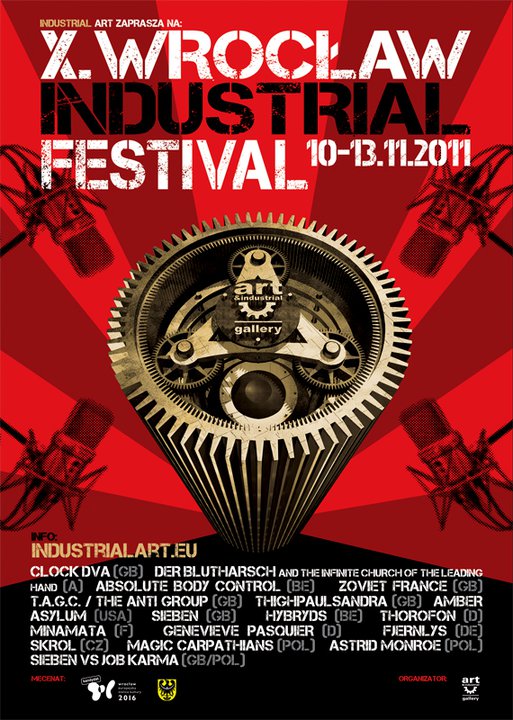 01. Der Blutharsch And The Infinite Church Of The Leading Hand –
…Of The Sounds From Hell
02. Thorofon – Stunde Null (Live)
03. Skrol – Dei Irae II
04. GS – Untitled
05. kakofoNIKT – Untitled
06. Minamata – George W.TC
07. 7JK – Sieben Vs. Job Karma – Krau
08. Pete Hope's Exploding Mind – White Light
09. Astrid Monroe – Sunglasses
10. Absolute Body Control – Waving Hands
11. Clock DVA – Phase IV
12. Geneviéve Pasquier – Bouge (Live)
13. The Magic Carpathians Project – So Transparent
14. Fjernlys – Silence
15. Kaleka – Distance
16. Amber Asylum – Perfect Calm
17. Sieben – Jack In The Pulpit
18. Hybryds – Silence (Live)
19. Thighpaulsandra – The More I Know Men, The Better I Like Dogs
See you in Wroclaw!